DLocal ($DLO) Research Notes

By Manta
Reporting time: January 3, 2021
Investment model: long-term core value
Summary of research notes
1. Huge market size & amp; Low permeability
Emerging markets are experiencing great changes from credit card payment instead of cash payment, and offline shopping to online e-commerce. In 2020, the TPV of e-commerce in emerging markets will be about 1.3 trillion US dollars, and it is expected to reach 3.3 trillion US dollars in 2025. Among the 29 regions that have entered, the penetration rate of dLocal cross-border e-commerce TAM is only2%The penetration rate of cross-border e-commerce TAM in Latin America is4%.
2. Competition pattern
DLocal is on a very competitive track, and the competition is as follows
(1) Local banks or financial institutions (more resources, more familiar with local compliance);
(2) Relatively mature leading players of payment track (such as Stripe and Adyen);
(3) Growth start-ups (such as Ebanx).
Faced with the competition among these three, dLocal covers a wider range of countries and regions, and is more focused on providing more vertical solutions for emerging markets.The moat of dLocal is not indestructible. In the long run, we can judge whether dLocal can achieve the scale effect of payment software from the changes of market share and take rate.
Company introduction
DLocal (stock code: $DLO) is a digital finance company established in Uruguay in 2016, mainly providing cloud-based cross-border payment services in emerging markets,It can handle more than 600 different payment methods.
The service advantage of dLocal mainly lies in one d-local one-stop, that is, an API interface, a platform and a docking, which enables multinational companies to collect, pay and settle accounts directly in different countries through dLocal.It eliminates the problems of foreign exchange settlement, taxation, compliance and payment habits that cross-border businesses will face when entering these emerging countries. Reduce costs and increase efficiency, and improve the success rate of payment conversion.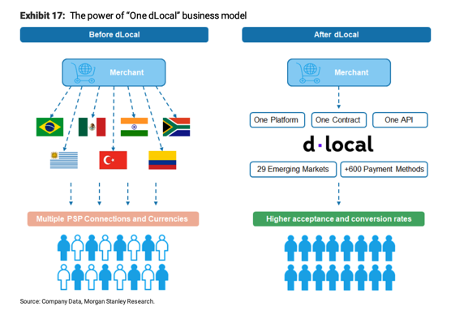 One-stop API service for dLocal
01 Three Knives: Market Space
According to the survey, the compound annual growth rate of GDP in emerging markets from 2020 to 2025 can reach 4.9%, almost three times that of developed countries,At the same time, the proportion of people covered by banking services in these countries is extremely low, and almost 70% of the population does not have bank cards. For example, in Brazil, influenced by local policies, local residents prefer to pay by cash/local digital wallet or direct transfer. In recent years, with the increasing Internet penetration rate in emerging markets and the rapid development of financial technology companies in Latin America and other regions,Emerging markets are experiencing great changes from credit card payment instead of cash payment, and offline shopping to online e-commerce.
1. Trillion market space in emerging markets

Expected growth rate of e-commerce transaction payment in emerging markets
The above figure shows the expected growth rate of e-commerce transaction payment in several emerging market countries in the next three years,In 2020, the TPV of e-commerce in emerging markets will be about 1.3 trillion US dollars, and it is expected to reach 3.3 trillion US dollars in 2025.The CAGR of e-commerce transaction payments in Brazil in the next three years can reach 31%, and that in Nigeria can reach 33%. Although the growth rate of e-commerce in these countries is very high, cross-border businesses face many challenges when doing business in these areas, such as foreign exchange rate, government regulatory compliance, taxation and so on. Various complicated localization procedures have slowed down the development of businesses. Among the 1.3 trillion e-commerce TPV,Cross-border transactions account for only 6%.
2. Rapid Expansion Demand of Multinational Corporations
WithWith the trend of e-commerce, online taxi and streaming media in emerging markets, European and American companies are also trying to bring successful products in developed countries into these markets. According to Morgan Stanley's prediction,Companies such as Facebook, Google and Uber will grow their revenues in emerging markets by about 30% in the next two years.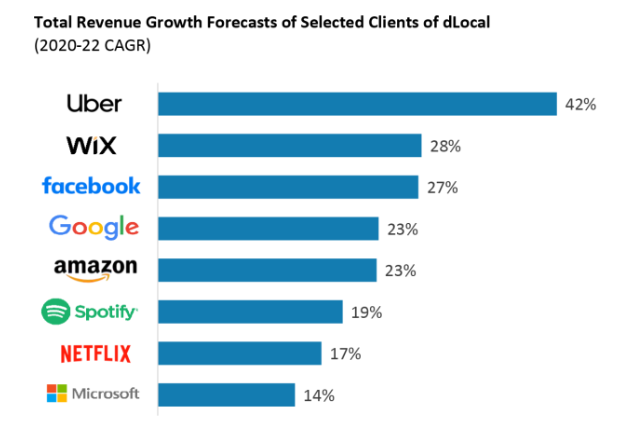 DLocal customers' growth expectations in emerging markets (Source: Morgan Stanley)
When the huge market opportunities meet the rapid expansion of cross-border e-commerce, it creates opportunities for companies such as dLocal that provide cross-border payment solutions. Cross-border e-commerce transactions account for two-thirds of the transactions handled by dLocal.DLocal helps businesses save all kinds of trivial problems when entering emerging countries, reduce operating costs, improve operating efficiency and improve the successful conversion rate of payment.The giants mentioned above, such as Facebook, Uber and so on, are all customers of dLocal.DLocal handles the cross-border payments of these businesses, which is equivalent to riding the east wind of the growth of these industries and giants. It can also be seen from the net income retention rate (NRR) that dLocal is much higher than that of peers (2021 Q3NRR is 185%), and the retention and satisfaction of dLocal customers are very high.However, dLocal's share of wallet in existing cooperative businesses is only 3-5%, and there is still much room for development.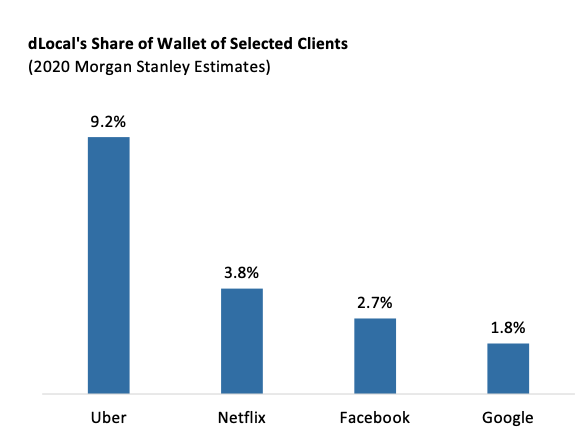 DLocal's wallet share among customers (Source: Morgan Stanley)
3. TAM permeability is low
Of the 29 areas that have been entered,The penetration rate of dLocal cross-border e-commerce TAM is only2%The penetration rate of cross-border e-commerce TAM in Latin America is4%.
TPV penetration rate of dLocal in e-commerce market
02 Three Knives: Competition Pattern
DLocal is on a very competitive track,At present, the competition mainly comes from the following three aspects.
1. Local banks or financial institutions
Because dLocal operates in dozens of countries and regions at the same time, it will face competition from local acquirers and banks in different regions. Local financial institutions have more resources and are more familiar with local compliance. Every time dLocal enters a new country, the competition of local financial institutions will be a great challenge. But at the same time,Due to the convenience of dLocal's one-stop service and the good cooperative relationship with existing customers, multinational merchants will first consider using dLocal's services when entering new regions.
2. Relatively mature leading players in the payment track
Such as Stripe, Adyen, etc. Adyen mainly competes with dlocal in Mexico and Brazil, and other small countries Adyen has not entered. Adyen's main business is CNP (card-not-present), which has no card payment and takes rate 0.23%; Compared with Adyen, dLocal provides a solution to connect with local payment methods, and the profit of dLocal business largely comes from the cross-border foreign exchange collection of large enterprises, so dLocal's take rate is higher, close to 4%.The solution provided by dLocal will be more vertical and more focused on emerging markets. Whether Stripe and Adyen will start providing similar services to emerging markets in the future is also worth paying attention to.
3. Growth startups
Founded in 2012, Ebanx is a Brazilian financial technology company that provides end-to-end payment solutions.There is a great overlap between its business and dLocal, customers include Spotify, Uber, Airbnb, Shoopee, WordPress, Courera and more. According to the news, Ebanx also recently started a public offering, which may be listed in 2022. Since Ebanx is not yet available, we can't make a very detailed data comparison between Ebanx and dLocal. Here is a simple comparison of functions and prices. DLocal serves more countries, processes payments faster and supports more payment methods, but Ebanx has more standardized transaction fees.

DLocal vs EBANX
Competitive Advantage of dLocal
One-stop shopOne API solves all payment problems;
Intelligent diversion: Smooth payment interaction and higher transaction success rate;
Scale effect of payment softwareWith the increase of penetration rate, more merchants will be attracted to use dLocal's products (revenue will increase), and dLocal will have more bargaining power (take rate and gross profit will increase). According to the current NRR and Take Rate of dLocal, they are indeed higher than their peers.However, with the more intense competition, if the services provided by dLocal are not obviously superior to the competing products, the take rate and market share may decline, so we can continue to track these two data to judge the industry status of dLocal.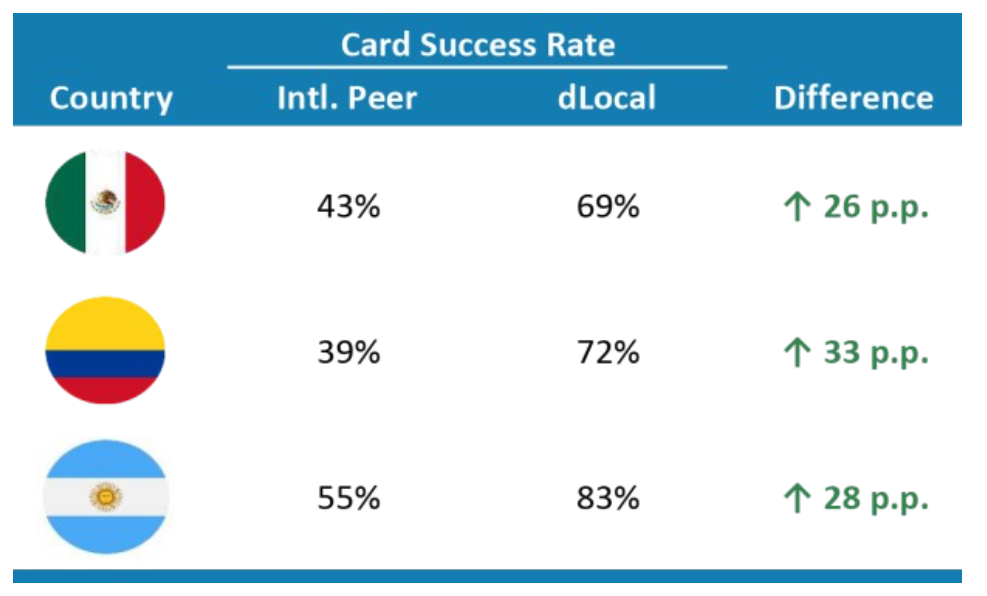 The success rate of dLocal transaction is higher than that of peer competitors
03 Business model and financial situation
1. Business model
DLocal's business is mainly divided into two parts,Pay-in section and Pay-out section.At present, the income mainly comes from Pay-in.
Pay-inDLocal helps multinational merchants accept payments from emerging countries and supports different payment methods in different regions. According to the transaction amount, the transaction fee + foreign exchange transaction fee will be charged.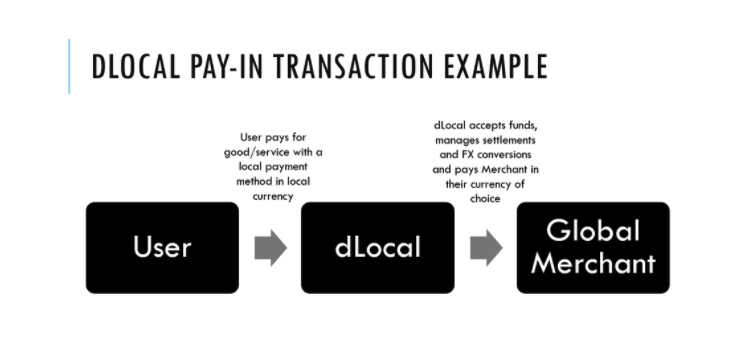 Pay-in process
For example, in Brazil, Cash payment accounts for 19% of online consumption. Consumers can complete online service or commodity payment through designated outlets under bills and vouchers, such as ATM, online banking, post office, supermarket, etc. These payment methods enter the accounts of cross-border merchants cooperated by dLocal at a faster speed and higher conversion rate through API provided by dLocal.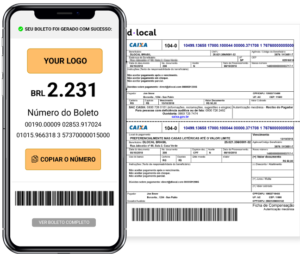 Payment page seen by Brazilian consumers
Pay-outIf merchants need to pay with local partners, they can also use the Pay-out service provided by dLocal. DLocal has partnerships with more than 200 banks in emerging markets to help merchants make payments, handle foreign exchange and other related businesses.
< img src= "https://static.tigerbbs.com/79f0ab571c364568a5d70ad553a7648d" tg-width= "760" tg-height= "347" referrerpolicy= "no-referrer" width= "100%" height= "Auto ">
Pay-out process
2. TPV (Total Payment Volume) distribution
The area in which you are located89% from Latin America, the largest proportion of which are Brazil 29%, Argentina 12%;
Sources of income: 2/3 from cross-border transfer; 1/3 comes from domestic transfer. Large overseas merchants prefer to use dlocal's one-stop service, while small and medium-sized domestic merchants prefer to choose a lower-priced payment system outside dlocal because the handling fee is lower but there is no additional service.
3. Income growth rate & amp; Financial position
-2019 $55 m
-2020 $104 M yoy +88.36%
-2021 $238 M yoy +128.9%
-2022E $400 M yoy +68% (Wall Street expected)
The highlight of dlocal's financial report is that it is much higher than its peers' net income retention rate, namely NRR (Net Revenue Retention).The 2021 Q3 NRR was 185% (vs Q2 196%), around 159% in 2020 and 151% in 2019.
But relative to the growth of retained income of existing users,Q3 The revenue QOQ contributed by new users showed negative growth (see the figure below).
Left: Revenue growth of retained merchants vs right: Revenue growth of new customers
Since dLocal's business involves exchange of foreign exchange, compared with companies in the same industry,DLocalThe take rate of is higher, in the4%Left and right. If we compare dLocal with the take rate of traditional credit card companies, dLocal obviously gets higher value from TPV.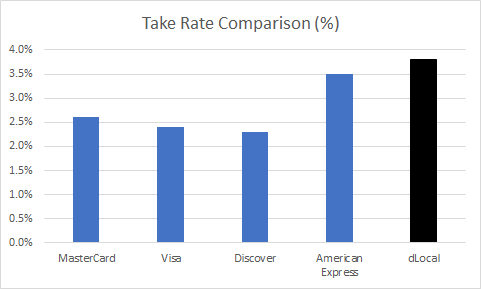 Comparison of take rate of different companies
DLocal's EBITDA Margin Q2 2021 was 44% and Q3 38%.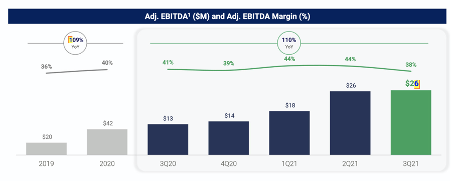 DLocal Adj. EBITDA up 110% year-on-year
4. Valuation
We put the PE of dLocal and several other digital finance companies in the market together with the compound annual growth rate of EPS in the next three years, and made a PEG comparison.DLocal's valuation is in the middle.

DLocal valuation comparison
04 Q3 Reasons for Stock Price Callback in Financial Report
1. The profit rate has declined, and the guidance of the net retention rate of long-term income has declined
EBITDA Margin decreased month-on-month, 44% in the previous quarter and 38% in this quarter;Take rate decreased month-on-month, 4.1% in the previous quarter and 3.8% in this quarter.The Company's Expectations for NRR DeclineIn the next 12-18 months, it will remain at 150%-160%, and will drop to 120%-130% in the long run. The management didn't give Q4 Guidance, and the attitude didn't show very bUllish, but a lot of sandbagging;;
2. Macro impact of emerging markets
Macroeconomic impact, Brazil accounts for 30% of dLocal's revenues and Argentina for 12%. Inflation is very high in both regions, and the recent correction in share prices of listed companies serving Latin America is also reflectedMarket worries about emerging market economies.
050,000 wood rating
Wanmu three evaluation system
Star rating (industry status and competitiveness)
4 stars: dLocal (cross-border payment)
Rating (the estimated market value will increase compared with the current market value after three years)
Grade A: more than 3 times
Risk assessment (any factor may cause the stock price to fall within half a year)
Red: within 30%
Investment risk
1. Macro risks:Inflation in Brazil is rising, and the market is worried about the economy of emerging markets;
2. Policy risks: Support the risk control of multiple payment methods. You need to obtain licenses to enter new countries and regions, and you will face many uncertainties;
3. Strong dependence on major customers:64% of revenue comes from the top 10 customers, and the growth of multinational companies in Latin America largely determines the growth of dlocal's revenue.
-End of the full text-
Author's disclaimer:
The information in this report comes from published information, and I do not guarantee the accuracy, completeness or reliability of such information. The information, opinions and speculation contained in this report only reflect my judgment as at the date of publication of this report. The price, value and investment income of the securities or investment subjects referred to in this report may rise or fall. Past performance should not be used as the basis for future performance. At different times, I may issue reports that are inconsistent with the information, opinions and assumptions contained in this report. I do not guarantee that the information contained in this report will remain up to date. At the same time, I can modify the information contained in this report without giving notice, and investors should pay attention to the corresponding updates or modifications. In no case shall the information or opinions expressed in this report constitute investment advice to anyone. In any event, I do not promise that investors will make profits, share the investment income with investors, and take no responsibility for any losses caused by anyone's use of any content in this report. Investors must pay attention to the fact that any investment decisions they make accordingly have nothing to do with themselves. There are risks in the market, so investment should be cautious. Investors should not regard this report as the only reference factor for making investment decisions, nor should they think that this report can replace their own judgment.
Disclaimer: The above content represents only the personal views of the poster and does not constitute investment advice on this platform.
Log in to participate in comments