If there is no accident, the last week of December is likely to be bullish.
This is not what I said casually, but a law discovered by a lot of research on Wall Street:
The Santa Claus rally is a very specific event. It is the tendency for the market to rise in the last five trading days of the current year and the first two days of the new year. First discovered by Yale Hirsch of "Stock Trader's Almanac," it has produced positive returns 34 of the past 45 years for an average return of 1.4%.
During the month of December, the S&P 500 tends to peak during the last week or even the last day of the month, according to Jessica Rabe, co-founder of DataTrek Research.
"Since 1980, the S&P's December high happened during the last week of this month in almost half (41 pct) of years," she said in a recent note to clients.
Judging from the market situation in these two days, there is really nothing to refute. Anyway, there are only a few days left, so let's watch while walking.
Sell put pools today:
Like last Thursday, today's data is still 0. Here is my own data。​
I choose my own
stock code
Annualized income
Expiration date
Exercise price
Royalty
Implied volatility
$TSLA 20220107 950.0 PUT$
34.0%
2022/1/7
950
11.95
68%
$NVDA 20220107 280.0 PUT$
46.7%
2022/1/7
280
4.55
52%
$AAPL 20220107 170 PUT$
24.5%
2022/1/7
170
1.42
30%
​​Because the market is very good, so the choice of the right gold price is more radical, Daily MA 10 ~ 20 position. If the market is good, it can drain the time value in two or three days, so there is no need to get the expiration date.
All three companies are good, Musk$Tesla Motors(TSLA)$ Once again, a large number of cars were delivered, and Micron's financial report soared to benefit the chip sector$NVIDIA Corp(NVDA)$ .Analysts boast$Apple(AAPL)$ Stand on three trillion yuan.
Although it was written$Tesla Motors(TSLA)$ Put, but then I thought about it, and I still chose to make a covered call when I held shares:$TSLA 20211231 1200.0 CALL$. Tesla Motors closed at 1,200 on Friday, so 100 positive shares were sold at 1,200 per share and gained $450 royalties. If you don't close at 1200, you will also get a royalty of $450, but you will continue to hold shares.
Share an ultimate stop loss trick
​@多算胜 This friend recommended: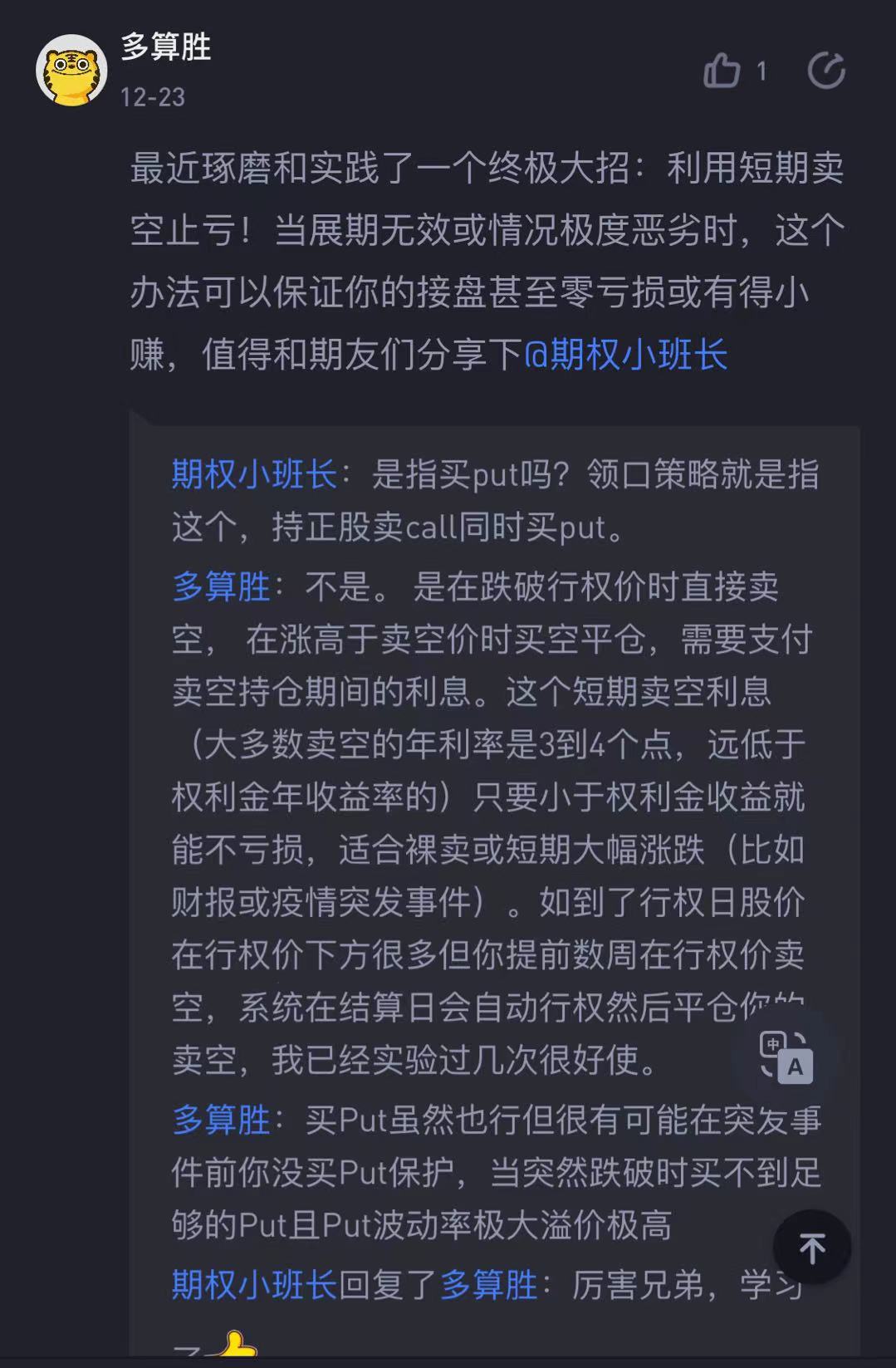 To put it simply, when it is found that the put exercise price becomes within the price, 100 shares are sold backhand to short, and the short stocks are bought at the exercise price after maturity settlement.
For example, if you sell BABA 144put, one day you find that BABA has fallen to 143, then you sell 100 stocks at this time, and on the settlement date, you find that Ali has fallen to 140, but put will not lose money, because short stocks and put will exercise their rights together, put will receive royalties, and the positive shares will be bought at 144, and the positive shares will lose 100.Total loss is royalty-100, effective stop loss.
If BABA rebounded back to more than 143 on the same day, it is necessary to close the short stocks in time.
Do we have a position to buy and sell stocks? There must be. I have always stressed that when selling put, we must leave enough margin to take over. Combined with this brother's strategy, you can stop the black swan in reverse now.