Chunjiang Plumbing Duck Prophet, Hong Kong stocks and US stocks have a good start in new energy
Statement:
1) There are risks in the stock market, so investment should be cautious. All listed companies mentioned in the article are only used for analysis, not for trading reference!
2) This WeChat official account does not recommend or diagnose stocks. The content and viewpoint of the article are only the sharing of personal investment thoughts and feelings, for reference only, and do not constitute any investment suggestions!
First, Hong Kong stocks, US stocks and new energy have all started well
After the new forces and major new energy vehicle companies released their December sales, Hong Kong stocks opened today, and the new forces' Tucki and ideals both rose well,
Tucki Hong Kong stocks rose 5.85%

Ideal Hong Kong stocks rose 3.5%
Tesla rose 6.5% before the market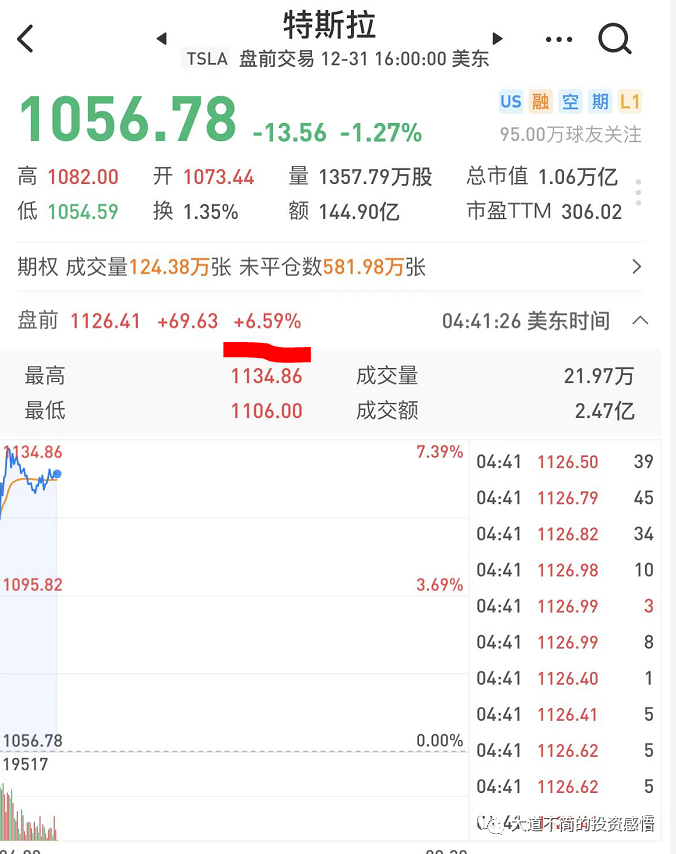 Looking at the stocks related to photovoltaics in Hong Kong stocks
Luoyang Glass shares (01108) rose by 13.00%,
Rainbow New Energy (00438) rose by 11.01%,
GCL-Poly Energy (03800) rose by 6.36%,
Shuifa Xingye Xingyuan (00750) rose by 5.68%,
Concord New Energy (00182) rose by 3.66%,
Both new energy vehicles and photovoltaics have made a good start on the first trading day of 2022.
As mentioned before, new energy will continue to be a big year in 22 years, whether it is new energy vehicles or photovoltaic energy storage. Observe the monthly sales volume of new energy vehicles, and the sales volume in December is very good both year-on-year and month-on-month. We will pay close attention to the sales volume in January, especially the year-on-year growth rate.
However, due to the continuous price reduction of photovoltaic components, silicon wafers and silicon materials, the demand for installation has been driven. The price reduction will only continue, because the new production capacity will be gradually released, and the price reduction will be accompanied by the rapid growth of installation volume.
During New Year's Day, there was an epidemic in Ningbo. Some areas belonged to control areas and some areas were prevention areas. Timeliness is the most affected, and Shenzhou International in the control area only fell by 7.8%

YD should be in the precaution zone and may have some impact, including port export shipments,But it should be a short-term impact, which does not affect the investment logic at all.
Judging from the opening trend of the New Year, although the Hong Kong stock market is falling, the trend of new energy is strong, which is consistent with my judgment on 2022. 2022 may be a structural market, that is, the market may not have much rise and fall, especially A shares, and there will not be much room for rise and fall.However, new energy is still the most sustainable track, and every adjustment is an opportunityOf course, every time you adjust, you will think that the track is overestimated, and there will be people with acrophobia. "Pessimists are often right, optimists are often successful", especially for the track with the greatest opportunity of the times, optimists who choose the right track are more likely to succeed.
Photovoltaic stocks generally rose in Hong Kong stocks, but you will find that there are two sectors with large increases, the first is the ingredient sector, and then the downstream power plants. There are also inverters. Because there are no inverter companies listed in Hong Kong stocks, inverters are not reflected.
According to my opinion, the best three subdivisions of photovoltaic and energy storage:
1. Inverter, PCS, as I have repeatedly said before, this is endogenous growth CCID with a deep moat.
2. In the batching section, due to the substantial increase in photovoltaic installation, the demand for batching has increased significantly, and some batching involution is not as strong as gradual and silicon wafers, so there will be better investment opportunities
3. For downstream new energy power plants, due to the continuous decline of components, the construction cost of new energy power plants is getting lower and lower, the ROI of investment return is getting better and better, and the corresponding profits will get better and better, and this will be sustainable throughout 2022, so new energy power plants will also have good investment opportunities.
The domestic sales forecast of new energy vehicles in 2022 was raised to 5.1 million, compared with the optimistic estimate of 5 million. In 2022, the global sales volume of new energy vehicles should exceed 10 million.
About 3.4 million in 21 years, with a 50% increase in 22 yearsThis growth rate is amazing. Such a big industry has a half-fold growth.
Second, Tesla and BYDSales reached a new high in DecemberCompared with the sales volume released by the new power on the first day of the month, BYD is always a few days slower, which is still the style of the traditional power.
BYD sold 93,900 new energy vehicles in December, compared with 28,800 in the same period last year. In 2021, the cumulative sales volume was 603,800 vehicles, an increase of 218% over 2020. In November, it was 90121, which was a good month-on-month growth.
BYD's sales volume is growing very fast, but BYD's profit margin has not been high. Although it has a large scale, it does not reflect the scale effect. This year, the number of new energy vehicles reached 600,000, and Tesla's profit was already very good when it sold 600,000. However, at present, the impact on BYD's valuation is not particularly great, and we expect BYD's market value to reach a new high.
Tesla delivered 936,000 in 2021, not far from 1 million.
Tesla rose 6% before the market, and the market has already recognized this delivery.
Disclaimer: The above content represents only the personal views of the poster and does not constitute investment advice on this platform.
Log in to participate in comments